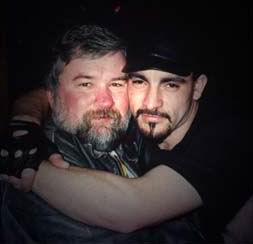 A Pic of us at the Laird Hotel one night...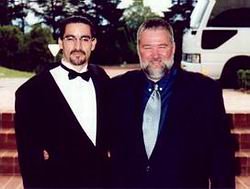 In Canberra..all dressed up.
We are a Bear and Cub couple living in Melbourne, Australia. We met on 9th June 1997 at a nightclub called "The Peel". It was Luke's first experience in a gay nightclub like this. With careful guidance from his good friend Baz, the whole experience was less frightening. Luke came from Canberra (the capital of Australia), and was just visiting - it was all a new experience. We were introduced to each other and, after chatting briefly, we left it at that. The next time Luke came to visit Melbourne, we met again. This time, we got to know each other better - much better. ;o)
---
Constant phone calls and very high bills followed. (the price of love) Love letters and cards were sent on a regular basis. (just makes you sick, doesn't it!?) This went on for the next three or four months until Luke finally moved to Melbourne on January 5th, 1998. O happy day!
---
While our interests do vary, we place a strong emphasis on our relationship and try not to make it complicated. We both have various interests that we like doing together, cuddling on the couch, going out for a romantic dinners and to the movies.